The Entrepreneurial Discovery Process (EDP) is the process of identifying business opportunities, and will be the true engine of the RIS4 Region of Murcia. It involves all relevant actors committed to finding potential business transformation R&D&I projects and initiatives in the priority areas of the Strategy.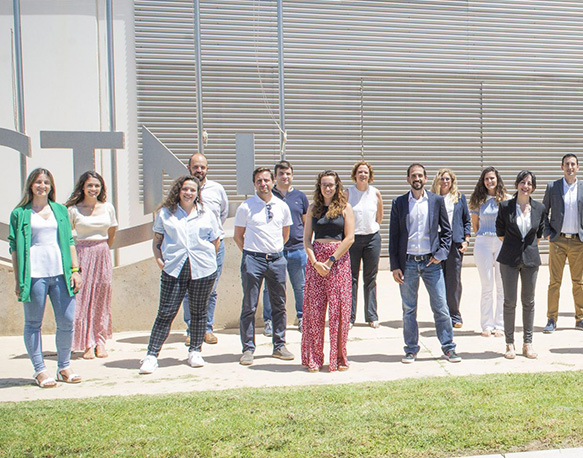 Transformative Routes and horizontal programmes will specify public-private financing and collaboration mechanisms, as well as support programmes (Policy Mix) that channel such public-private effort, for the achievement of the objectives set.
The Policy Mix will support the identification process of transformative projects and initiatives (EDP), providing the programmes that will serve to accelerate the implementation of the projects and initiatives that are identified.
Promoting the generation and transfer of knowledge, and the assimilation of advanced technologies.
IE1.1 Aid for the implementation of R&D&I business projects
Industry 4.0 grant scheme (0E1.1,/0E1.2.)
Digital enablers 4.0 grant scheme (0E11,/0E1.2.)
R&D grant scheme (OE1.1)
R&D voucher grant scheme (0E1.1./0E1.3.)
Fisheries and aquaculture innovation schemes (FEMPA 2.1.1 and 11.10)
Open Innovation Scheme
IE1.2 Support for research of excellence
IMIDA applied research projects (ERDF OE11)
Groups Supplementary Plans Research aid schemes (PRTR)
Other Supplementary Plans Research
Groups Excellence Aid Schemes
IE1.3 Promote a strategy of specialisation and provision of R&D&I services and projects of the Technology Centres, and of the Science and Technology Parks
Technology Centres grant scheme (OE11.)
PCM and PTFA services and infrastructures
IE1.4 Strengthening scientific, technological and other supporting infrastructures
CTNET network (including EIBTS)
R&D Equipment: UMU Health Campus, Faculty of Health and Sports Sciences, Campus of San Javier, Cartagena School of Nursing
Promoting entrepreneurship and the creation of companies by valuing knowledge.
IE2.1 Support for incubators of ideas, accommodation and advice for start-ups , university spin-offs , as well as their financing with seed capital, business angels , etc.
Aid to promote entrepreneurship and innovation (incubators)
Aid for the entry of private investors in start-ups
Promoting entrepreneurship and EiBT and EPTE aid
Acceleration services
Proof-of-concept schemes
PIDDE; +SPIN OFF
VET Entrepreneurship Classrooms (MRR)
Encouraging talent generation, onboarding, attraction and retention.
IE3.1 Attraction of researchers of international relevance
Jiménez De La Espada and Saavedra Fajardo Schemes (Visiting Researchers)
IE3.2 Support for the training and incorporation of technologists, research staff and VETs in companies, technology centres, universities and research organisations
Schemes for the completion of PhD thesis
boosting scheme
Innovation management schemes
Recruiting of technologists, PhD and VET in RIS4 areas
Bringing together ERASMUS, VET and university students, and incorporating them into companies
Dual vocational education and training –VET (ESF+)
IE3.3 Adaptation of the supply of university degrees and vocational training courses to companies' demand for knowledge
TFG/TFM scheme for the development of business proposals (CMN)
Dual University education
Curriculum flexibility Schemes VET (F.Prop)
Master's Degree in Vocational Training (specialisation) (MRR)
IE3.4 Training for smart specialisation, industrial transition and entrepreneurship
Accelerator of innovation
Industry 4.0 Training/ Sustainability / Digitisation
Training of new business initiatives
Capacity building for European projects
Training and Specialisation VETs in RIS3 areas
ATECA Classrooms (Applied and Disruptive Technology) (MRR)
PERAL Patent and Trademark Service
Supporting the economic and knowledge capacities of the Region of Murcia and its integration into the global economy.
INITIATIVE
II 1.2 Supporting innovation through advanced business services
Innovation voucher
Sustainability voucher
Industrial design grant scheme
INITIATIVE
II 1.3 Extension of the digital economy and services to improve the competitiveness of businesses
ICT voucher
E-commerce voucher
Innovation & Digitisation grant schemes
INITIATIVE
II 2.1 Promotion of the transfer of international technology by companies and public and private bodies that generate knowledge and research
EEN-SEIMED International Technology Transfer Services
II 2.2 Internationalisation of postgraduate degrees through double or joint degrees with foreign universities
Consortia with European Universities (UPCT and UMU)
INITIATIVE
II 2.4 Organisation of international conferences, scientific meetings and 
workshops
Jiménez De La Espada programme (conference organisation)
INITIATIVE
II 3.1 Advice, search for partners and financing of international R&D&I projects
'Europe' voucher
Services for participation in European EEN-SEIMED programmes
CMN dynamisation projects
INITIATIVE
II 3.3 Promoting the internationalisation of Murcia-based companies
EEN-SEIMED internationalisation services
Internationalisation
Sectoral Diversification
Improving entrepreneurial talent
Expansion of export base
Promoting cooperative and multidisciplinary R&D&I among all public and private actors.
INITIATIVE
IH1.1 Promotion of strategic cooperation projects.
Strategic projects and public-private cooperation
Agrinnova Office Aid to Operational Groups (EAFRD Submeasure 16.1)
LEADER projects agricultural innovation with companies and researchers (EU)
Support for innovation projects OCAs-CDAs (Regional Agricultural Office Agricultural Demonstration Centres)
Fisheries and aquaculture innovation programmes (EMFAF 2.1.1 and 11.10)
INITIATIVE
IH2.1 Organisation and promotion of events and forums for the prospecting, identification and exchange of needs and technological solutions.
Brokerage Events (OE1.1. / COSME)
Technology Conferences
Encouraging networking and participation.
INITIATIVE
IH3.1 Thematic innovation circles for the identification of business needs, their connection with the offer of knowledge and the discovery of business opportunities.
RIS4 working groups ( Networking Initiatives)
INITIATIVE
IH3.2 Promotion of the regional technology transfer platform, and commercialisation of innovation.
DirectTTo platform (OE1.1.)
Marketing of innovation (INNOVAM+)
INITIATIVE
IH3.3 Networks for the provision of existing equipment and laboratories in research organisations to all actors in the ETC System.
AGORA DIH Resources Region of Murcia
COVID infrastructure catalogue
Infrastructures of Supplementary Research Plans
Promotion of innovative culture and social innovation.
INITIATIVE
IH4.1 Promoting Entrepreneurial Administration and Supporting Social Innovation.
Murcia InnoLab Projects
Murcia Innova Projects
InDemand/ CHERRIES /InDemand RCT Project
Humanities and Social Sciences Research projects
Programme of aid for social innovation
INITIATIVE
IH5.1 Awards for business innovation and young researchers.
Innovation Awards
RIS4 Awards for companies and researchers
CEI Mare Nostrum Awards
INITIATIVE
IH5.2 Actions to raise awareness and social dissemination of innovative culture.
Internationalisation and Innovation Forum
F Design Forum
Science and Technology Week
Industry 4.0 sensitisation (ADDITIVE, ROBOTIKA, MIA, etc.)/Digitisation
RIS4 Region of Murcia Unique event
Region of Murcia Scientific Olympics
INITIATIVE
IH5.3 Promoting innovation from the public sector.
Innovative Public Procurement
Demand-driven co-creation
Sectoral thematic working groups
The Governance of the RIS4 Region of Murcia is supported by the other agents of the R+D+I ecosystem through the working groups.
Health and Wellbeing
Footwear and Fashion
Naval Maritime
Tourism
Water and Environment
Home
Logistics and Transport
Agribusiness
Chemistry
Agribusiness Support
Energy
Industry 4.0 and Digitisation